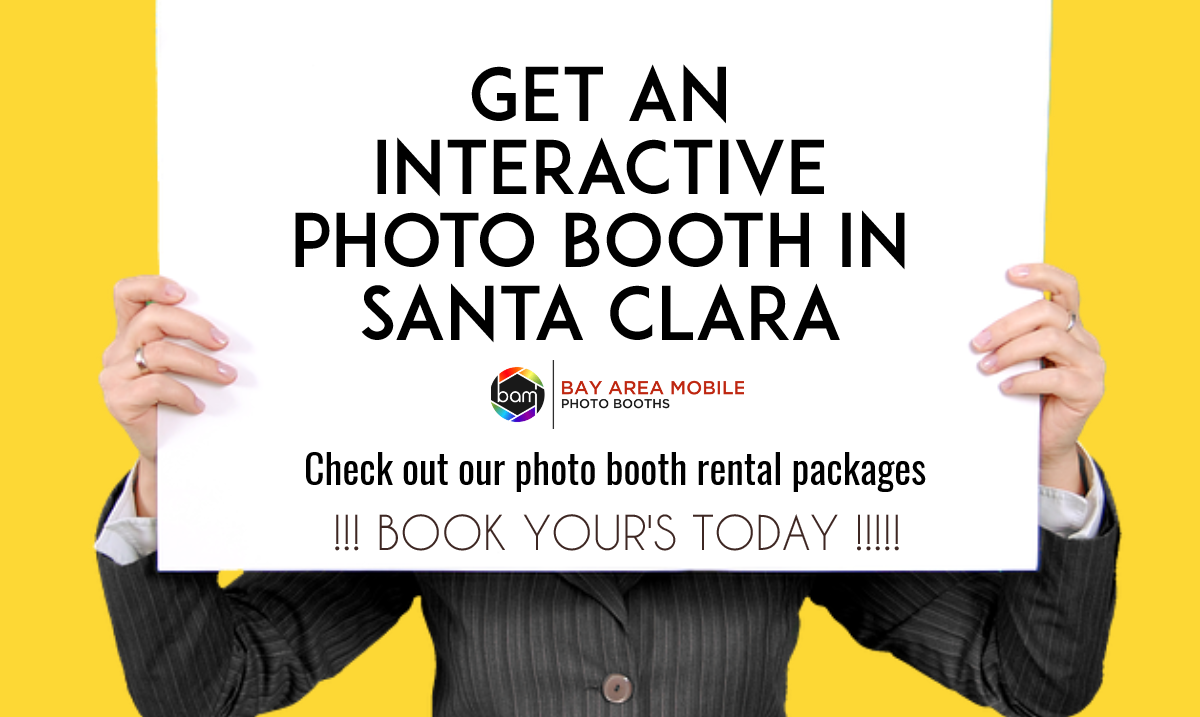 📙 Mirror Photo Booth Rentals In Santa Clara
📙 Know More About Santa Clara Photo Booths
📙 How Can We Help You?
📙 Most Popular Photo Booth Rentals
📙 Types Of Photo Booths
📙 Cost Of Photo Booth Rentals
📙 Photo Booths Popularity
📙 Benefits Of Photo Booths
---
Mirror Photo booths are in vogue and have become an integral part of the parties in Santa Clara 🖼️. Despite the popularity of smartphone selfies, we are expecting a new wave of trends that ensure that these photo booth rentals in Santa Clara continue to emerge as a must-have event entertaining solution🥳.
Having these booths are the best way to start all the fun experiences, and your guests will love those memories as keepsakes to remind them of all the good times they had with their loved ones.
BAM Photo Booth rentals Santa Clara, CA 🖼️ can offer you with everything you need to make your event a successful one! Whether you are planning for a birthday party, 🥳 charity event, luxury wedding event 🥳 or a corporate event, enjoy the magic of the BAM PHOTO BOOTHS to create an unforgettable experience for you and your guests.
Get the best mirror photo booths in Bay Area personalized for weddings, and all event and party types. We also offer a great solution for brand activation or conference by creating a unique and natural way for your guests to interact with your brand. We're the industry leaders and are known to combine the most technologically advanced booths with a service reputation that's second to none in the area.

From a new take on a tradition to cool animated features, the people with all ages are finding creative ways to display their unique style while interacting with their guests in an entertaining way.
The types of parties where photo booths can be included:
House parties in Santa Clara
Corporate parties in Santa Clara
Trade shows
Bachelor parties
Social parties such as Baby Shower
Private parties
Small events
Large events
Fun games
Family Reunions in Santa Clara
Grad Nights
Prom parties
Retirement parties in Santa Clara
Poker nights
Casino parties in Santa Clara
Client appreciation
Launch parties
Charity events
Company parties
Adult parties
Birthday parties
Monte Carlo
Wedding events in Santa Clara, CA
Poker tournaments
Bar & Mitzvah
Fundraising events
Graduation parties
🖼️

Best photo booth rentals in Santa Clara

Be it a small get together or a  big fundraiser event, Bar/Bat Mitzvah, Prom night, Grad night, Birthday Party, Wedding Anniversary, or a Bachelorette, there is nothing except photo booth that can make your parties trendy with a complete entertainment package for your guests.

A mirror photo booth rental is a lot about the latest equipment. Our party booth experts are professional and entertaining geeks. We offer photo booth rentals in Santa Clara for your corporate events, holiday parties, get-togethers, fundraisers and everything in between. If you are the one who loves to spice up the game a photo booth is a way to go!

There are lots of Photo booth Service Providers, but if you are talking about the best, then Bam Photo booths in Santa Clara, CA will be the perfect choice for you. We strive each day to push the boundaries of events and experiential photography. Our talented team is there to offer you the best services for your functions.

You will love to know that we provide open communication channels throughout the duration of each project in a channelized way to our clients so that we have direct communication and make your event a memorable one.

You can easily hire a photo booth service and photo booth rentals for the parties with us in order to let your guests enjoy the best moments.

Elevate your next party, event, or gathering with a Bam Oval mirror photo booth and nevertheless, Bam Tower mirror photo booth.

Make your Santa clara event extravagant with the inclusion of party props and addons:

What's a photo booth without amazing props, a wide selection of backgrounds and layouts? No doubt that planning an event is a stressful and challenging job to perform, but we are here to help you with an important piece. Be it a wedding, birthday, Bar/Bar-Mitzvahs or grand openings you don't have to do too much!

We have lots of different props, and addons to engage your guests. If you want to have special occasion props or any kind of them at your party or wedding, please let us know. We might have exactly what you may need. We provide several types of props and backdrops for you to play with!

Whether you want us to blend in or help bring your guests to life with props and pose suggestions, we're always there to ensure that your event is as per your needs.

Let's dive deep into the types of props and add-ons that are needed:

Face Accessories: These are one of the best props in a budget-friendly option. Turn out your party the most desiring one by inclusions of various sizes, colors and shapes face accessories.

Confetti: These can be a great addition but make sure, when you look back on the photo, you're remembering the experience of the event as a whole. So the inclusion of colorful confetti on all entrance points can do wonders for your party.

Faux sure: Faux sure in place of original flowers are a great idea. Instead of real blooming flowers try your hands on fake blooms with a few coats of spray paint. Make them into bouquets, garlands, crowns, and many more decorative pieces.

Hats: If you have colorful hats in your closet, please include them in your photo booth props as well. Cowboy hats, Santa hats, Floppy sun hats, Fedora, Feathered caps can be the unique options for your guests. Mixing all the types may add elements of nostalgia for the funniest snapshots. I think the more exaggerated the hat is, the funnier they come in pictures.

Masks: Yes, the masks are a heart of any party. We must tell you that these can never go wrong as one of the choices for fun props at any event. They can tell us such a hilarious story in your photo booth pics. The black eye patch, pirates masks and more can be quite memorable if worn by the right party-goer! Providing partial masks from various areas can hit your excitement to a new level.

Ties And Bowties: A giant clown bow tie with other ties can make your event a fun event. They can sure make an awesome photo booth prop as well. With this idea, you have to go BIG or go home.

Glasses: Opt for a few hats and glasses from costume shops, party stores, or possibly even your childhood bedroom. The glasses must be oversized, plastic, colorful, and just plain stupid looking. Nothing less will suffice. Mixing those will add elements of nostalgia for the funniest snapshots.

Balloons: Balloons are a savior in any party. Consider balloons in the air, spread on the ground or wall decorations with the balloons and papers can be a big hit with few quotes or sayings.

Wigs: Change your looks quickly with the wigs and masks. These don't even have to be silly or over-the-top. They just need to be wigs. Fill your photo booth prop box with all colors and styles to offer more choices to your loved ones.

CutOuts: Cutouts of musical instruments, stars, moon, alphabets, emoji from various colored glitter paper may ensure that everyone is engaged as per his/her taste and even let your guests be a part of your beautiful moments.

Fun Words: The perfect word board prop that will compliment your sexiest dance moves and best outfit. Photo Booth props don't have to be too expensive at all. You can easily do DIY too.

Printable words on a stick: They can encourage anyone who wants to take a silly photo of themselves or with a group to enjoy and be a part of your wedding.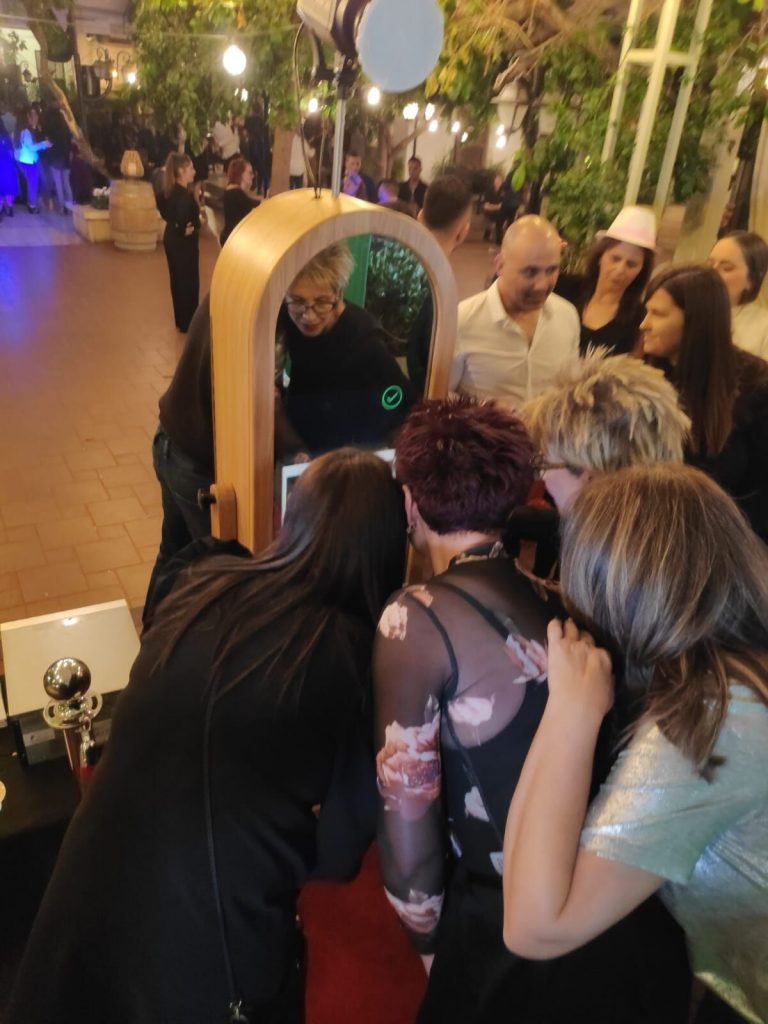 🖼️

Know more about Santa Clara photo booths

Photo Booth is an interactive tech solution that can click amazing pictures and come with options to instantly share the photos on social media platforms. Not only is it tempting to have a photo booth for the parties, but different brands and fundraisers can also benefit greatly from this new-age interactive advancement in recent years.

A completely new idea is to reinvent the boring old photo poses using high powered studio lights, modern DSLR cameras, lots of style into new refreshing ones with us. Money is used in the machine to click out the pictures and the guests can enter the booth at the same time to get themselves clicked with the funny poses. Selfie lovers can also enjoy their time.

Photo Booth is a fun box that is nowadays being seen at many events, parties and market places. In Photo Booth you can easily take black & white or photograph by self-operating through the coin. It works like a coined operated vending machine. Thus,  photo booth rentals at Santa Clara can add loads of fun to any type of event that you're hosting.
🖼️

It's your day and we can help you with:

Entertainment: offer beautiful and joyful moments to your guests with enthusiasm while they try with props and various poses to entertain themselves.

Setting: Offer an instant setting up/taking down a photo booth, strips/flipbooks design, and photo booth assistant with professional attire.

Quality of services: We are experienced ones in the photography and photo booth services that can make you feel special.

Favors: You can get high-quality-image strips/flip books with your special day's information for your guests to remember all these wonderful moments like never before.

Prices: They are fair and reasonable as per your needs.

Agreement: A smooth process for stress-free planning.
🖼️

Most popular photo booth rentals in Santa Clara:

From the various GIF photo booths to the ones that create custom flip-books, we have a list of creative ideas that can easily assist you with everything you need to know about the Bam photo booths bay area.

We've put together various wedding photo booth ideas that are simple and will inspire you to engage your guests at the wedding.

Open-air photo booth:

These aren't connected to anything, that means you can set it up as far away from your chosen background as you want. You do not require any booth here. Just grab a camera to be placed on a tripod or table and your guests can control when the photos are taken.

Slow-motion video booth

The booths provide your guests with slow-motion videos related to any actions or any type of facial expressions that they can post on a social media platform.

GIF-maker photo booth

Your guests can be a star in their own short animated clips and share with all their followers. Instead of still pictures, you can enjoy short Gifs

Old-school photo booth

Move-in different sized groups inside a booth, enjoy making silly faces, pose differently and then wait for a printout of your images.

360-degree photo booth

These can make a great addition to weddings, big events, fundraisers and many as well! You can be captured well from every angle.

Green screen photo booth

Your guests can easily personalize their images by choosing any funny backdrop.
🖼️

Types of Photo booth Santa Clara, CA

We Offer:
BAM Tower Mirror Photo Booth
We all are in love with a mirror selfie, so why not engage everybody and get them involved in the photobooths. It is the most innovative yet equally fun its look. Be it a corporate event, fundraiser or a get together the type of photo booth attracts your guests.
One of the best ways to entertain your guests and send everyone home with the best memories for years to come is possible through the mirror photo booth and it's all the rage at weddings, bachelorettes, prom, grad nights, kitty parties and more as it outshines itself by taking pictures to a whole new level. Choose to include voice guidance, vibrant animations, emoji stamping, interactive contests, social games, colorful photo countdowns and more.
Colorful animations and interactive selfie-taking experience will make your guests go "WOW". Our photo booth rental services in Santa Clara, CA  usually include mirror photo booths with a dealer to let you enjoy the event.
BAM Oval Interactive Mirror Photo Booth
It is considered as one of the unique photo-generating products that offer the latest technology in an interactive picture taking the module. The smart design and a user-friendly interface are the perfect things that get your guests engaged in certain parties.
You can easily choose to include voice guidance, vibrant animations, touch-based photo-signing, emoji stamping, interactive contests, social games, colorful photo countdowns and more.
🖼️

Most Affordable Photo Booth Rental in Santa Clara, CA

We believe that having a party shouldn't make you spend too many bucks for all the preparations and eatables. That's where we come in for you!

We offer some of the best reasonably priced packages for every customer keeping in mind his or her needs so don't forget to enquire today!

There may be many photo booth rental companies that often give a discount for weekday rentals. We at BamPhotobooths are proud to bring you the best choice of photo booths that will make your guests go 'wow' as soon as they enter the party.

The Santa Clara Photo booth rentals cost approximately $125-$250 per hour. There may be many cases for which an hour or so can be extended by just paying a few extra bucks as per the time slots.

🖼️

Why are photo booths so popular these days?

The popularity comes with its appeal and usage by people of all ages. This is even ideal for guests of all ages, from your little ones to the grannies. All can enjoy the party.  Everyone likes to be clicked, old or young and having a fun way to do it naturally is usually exciting for people. The reasons may also include the following:

Offers hard copies:

A fun opportunity to be with friends and get a printed image at the end. Photo booths offer you with a tiny space that can get you physically close to your friends and then just pose for a picture-perfect shot. Any kind of pictures can be offered with an instant hard copy.

Intimacy

Photo booths provide a sense of intimacy for various people. It's a great addition to any party to get your guests together in a confined area and take a picture. Unleash your creativity and have fun. Creative photo booth props and interactive backdrops also help participants to take better pictures.

Social media integration

The best feature for its popularity is that it can be easily integrated with social media platforms such as Instagram. Most events now come with a hashtag because they want guests to post pictures on social media and use these hashtag so that they can relive the event.

Ample amount of printing options:

These possess an ample amount of printing options for the users when you are up for a photo booth rental at Santa Clara. It allows you to take print cards or multiple photos on a single sheet.

Authentic shots:

Are able to produce an authentic image from a special moment in time. The pictures are printed in the same way they were taken, remaining untouched.
🖼️

Benefits of Santa Clara Photo Booths :

You'll see everything that you need includes:

All the pictures are printed just the same without any outside light

A friendly and experienced dealer can help you choose the perfect photo booth props and the perfect positioning for the perfect shot

Allows to see yourself on the live preview screen

Party favors for your guests

Fun and entertaining booth operator

Simple and easy on-screen instructions to help your guests

Offers black and white or color prints with the push of a button

Take unlimited photos during your event

Each photo comes with custom graphics

Cool props and scrapbooks available upon request

Unlimited layouts and photos, completely customizable to fit the specific needs of your event

Areas we serve:

We are currently serving in San Francisco Bay Area CA and Silicon Valley including  San Francisco, Santa Clara ,  San Jose, Castro Valley, San Carlos ,  San Mateo,  Oakland,  Atherton, Pleasanton & other nearby locations like San Lorenzo, San Leandro, Alameda, Emeryville, Berkeley, El Cerrito, Richmond, San Pablo, Hercules, Benicia, Vallejo, Martinez, Concord, Pleasant Hill, Walnut Creek, Lafayette, Orinda, Moraga, Alamo, Danville, San Ramon, Pleasanton, Livermore, Pittsburg, Antioch, Brentwood, Portola Valley, Half Moon Bay, Pacifica, Sausalito, Tiburon, Mill Valley, Corte Madera, Larkspur, San Rafael, San Anselmo, Fairfax, Novato, Petaluma. Daly City, Colma, San Bruno, Millbrae, Hillsborough, Burlingame, Foster City, Belmont, Redwood City, Menlo Park, Palo Alto, Los Altos, Sunnyvale, Cupertino, Saratoga, Campbell, Los Gatos, Milpitas, Fremont, Newark, Union City, Hayward

Create as many memories as you can with your loved ones this season. Pamper yourselves and enjoy each moment like it's the last.