It's your wedding day in Bay Area, and you are going through that perplexed situation whether to have a mirror photo booth or not.
Every bride and groom had to face such a situation while planning the special day of their lives.
When you are on a budget and the cost of making your wedding indelible start to increase by leaps and bounds, does having a mirror photo booth at your wedding in San francisco Bay Area make it to the list of things to cut to save money?
If you are nodding your head in denial, and have always desired to have a photo booth on your special day, then keep reading the following reasons why you have made the right choice to opt for wedding photo booth rental in Bay Area CA.
However, if you have nodded your head in affirmation, then go on and read this post to make yourself acquainted with the fact as to why you should have a photo booth at your wedding in Bay Area.
In this post you will get answers to your questions such as
Once you are done the reading and convinced, go through the brilliant line-up of photo booths offered by us. We, at BAM Photo Booths Bay Area, believe that having a photo booth is worth your time and money.
12 Reasons To Have A Photo Booth For Wedding In Bay Area CA
Here are the reasons why you should have a mirror photo booth rental for wedding in Bay Area CA.
Entertainment at its best
One thing that works for a photo booth is that you will love everything about it. You want to give a break to your guests from all those routine activities, and this is where a photo booth shines with all its glory.
For your wedding, you look for the best entertainment sources to keep your invitees entertained. This is where a photo booth can give you a bang for your buck and successfully add that fun element to the wedding. The best thing is that it is not an individual activity and your invitees will visit the photo booth in groups.
Seeing the witty and creative props, even the most camera-shy person would want to indulge in the photo-clicking experience. The fun element will surely make the people keep coming back to the photo booth.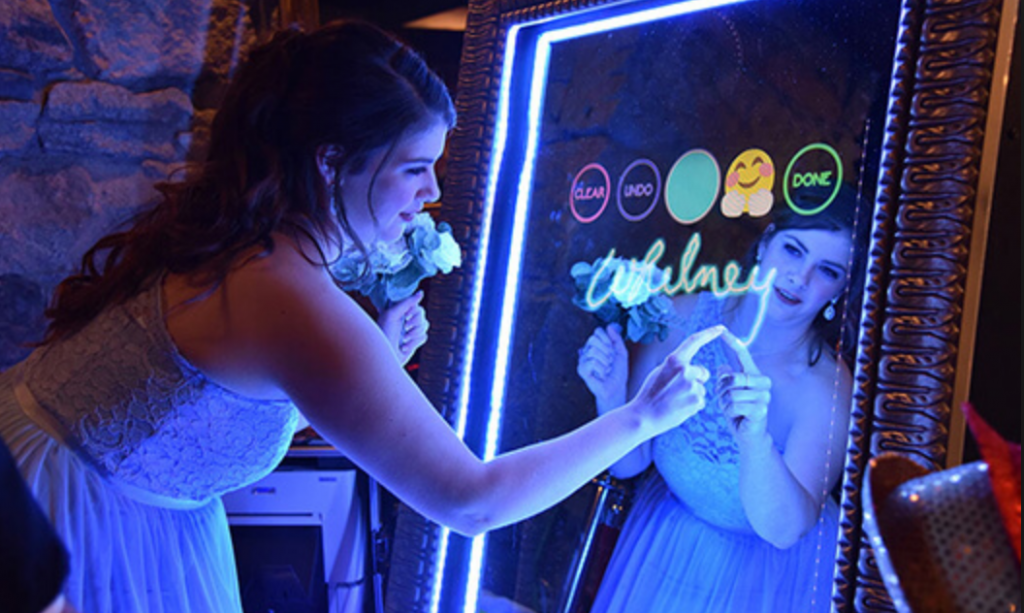 Have photo prints of the wedding
Opting for one of the modern methods and leaving that old traditional method behind is to have a photo booth. Think about it, how many times you have kept the favors you have received from other weddings you have been to? It is often one of the things the guests tend to leave behind in their hotel rooms and even on the tables as well.
It is always a better idea of giving out photo prints than giving out something that your guests won't cherish or keep. Don't forget to thank all your invitees for being a part of your special day.
Also Read – Best Wedding Photo Booth Ideas In Bay Area, CA
A creative way to do a wedding guest book
We believe a lot can be done with a photo. We prefer that both bride and groom also get to benefit from having a photo booth. Instead of using a traditional photo book containing photos of you as a couple, you should opt for photos clicked at the photo booth. This will help give your guest book a personalized touch and at the same time, add a fun element as well.
We cherish the fact that you get to see cheerful faces of your invitees while having a gala time with you next to their photo. This will be a constant reminder of the good times your friends and family members had and their pictures, along with their best wishes, will stay with you for the rest of your lives.
Best possible way of creating memories
Besides other reasons, probably, one of the key reasons for having a photo booth at your wedding is the memories that it creates. You must have hired the best photographer who will capture your first kiss, first dance together, and first cake cut. However, he will show little interest in capturing your aunt clicking herself with a witty hat on her head teamed up with neon glasses.
Having a wedding photo booth in Bay Area will capture, and it will instantly print a keepsake for all those who will be there on your special day.
Apt for all ages
Having a photo booth at a wedding can be fun for people belonging to all age groups. It is such a giggle that will keep the kids engaged. The fun does not end here; even the grandparents and older people can also have a gala time. A photo booth does provide endless entertainment opportunities from the beginning of the party until the end.
Adds that nostalgic moment
Back in the good old days, we didn't enjoy the privilege of having advanced smartphones with high-resolution cameras, owing to which photo booth was the only viable option to commemorate the event. Photo booths certainly take us back in those days with the props and various other accessories.
Customize to fit your theme
We help you to customize photo booths at your wedding. We offer a plethora of customizing options ranging from booth style, custom backdrop, custom effects, and not to mention custom props. Match your floral, rustic, or tropical or any of your favorite theme to match your wedding day. You also get to choose a backdrop to match your colors to have a custom-designed theme to make your day more special.
Talking Point
Everybody bride and groom want to have that something that makes their marriage memorable. A photo booth will certainly have your invitees raving for years afterward. Instead of having conventional photo booths, all of our photo booths have plenty of space to fit large groups, not to mention the latest designs, which creates a talking point at your wedding.
Get to share the love
Your guests will get a copy of the photographs (high resolution) they have clicked on the wedding day. This helps them to upload on their social media platforms such as Facebook, Instagram, Twitter, etc. Besides, your invitees also get to carry on the fun for weeks and months after the big day as friends and family members tag and comment on them.
Best Giveaways Gift
Giving photo booth pictures can be a great souvenir to all your invitees at the wedding, and the best part is that you get to have it instantly. Your invitees will keep the photo booths pictures away and reminisce about years after the good times they had at the wedding.
It's a fun break
You have tasted the scrumptious food at the wedding, and you are all sweating dancing all around, so it's time to have a break and grab a drink at the bar. Instead of fooling around with the groom's cousins, you should grab some friends and hit the photo booth. It is an excellent way of having a break while still being a part of the activity, and then you will have the photos forever.
Completely affordable
Photo booths have, of late, gained immense popularity, owing to which they have become more accessible for weddings. The average photo booth rental cost is quite low, depending on the length of time and features you have decided.
We at Bam photo booths strive to deliver you a high-end photo booth experience for your wedding at cost-effective prices. We offer an extensive array of photo booths to make your wedding talk of the town. We will provide a comprehensive service tailored to your specific needs and requirements.
AREAS WE SERVE
Photo Booth Rental San Francisco, CA & other nearby locations including:
Photo Booth Rentals San Carlos
Photo Booth Rentals Castro Valley,
Photo Booth Rental in Santa Clara,